The Benefits of Seaweed + Kelp Noodle Salad Recipe
Seaweed! Those who know me well, know that I love mermaids! Ever since The Little Mermaid came out (it was my first movie experience) Ariel has been my idol! My childhood summers were spent in my grandparents pool flipping around, legs pressed tightly together, pretending to be the princess of the sea. It's no wonder then that I love seaweed. However, this is definitely a new thing for me. I don't remember really eating seaweed other than in the occasional seaweed salad and miso soup. Today I try to incorporate it into my diet weekly, because it's not only delicious but has so many nutritional benefits.
Here are some of the Benefits:
DHA and EPA Omega 3 Fatty Acids
Seaweed is a great source of DHA and EPA, which helps fight inflammation in the body!
Great Source of Vitamins and Minerals
There are many different types of seaweed, each with their own unique nutritional profile. They contain high amounts of iron, thiamin, manganese, copper, riboflavin along with some vitamin A, C, E, K, folate, zinc, calicum, and magnesium.
Spirulina and chlorella are high protein and contain ALL the essential amino acids making them the most perfect healthy plant based protein!
Seaweed is also a good source of vitamin B12.
Iodine
Seaweed is full of iodine which is extremely important for proper thyroid function.
Digestion
Because of all the fiber, seaweed is great at supporting healthy digestion. It can also help balance the gut microbiome bacteria.
Antioxidants
Seaweed is full of antioxidants that help the body fight free radical damage.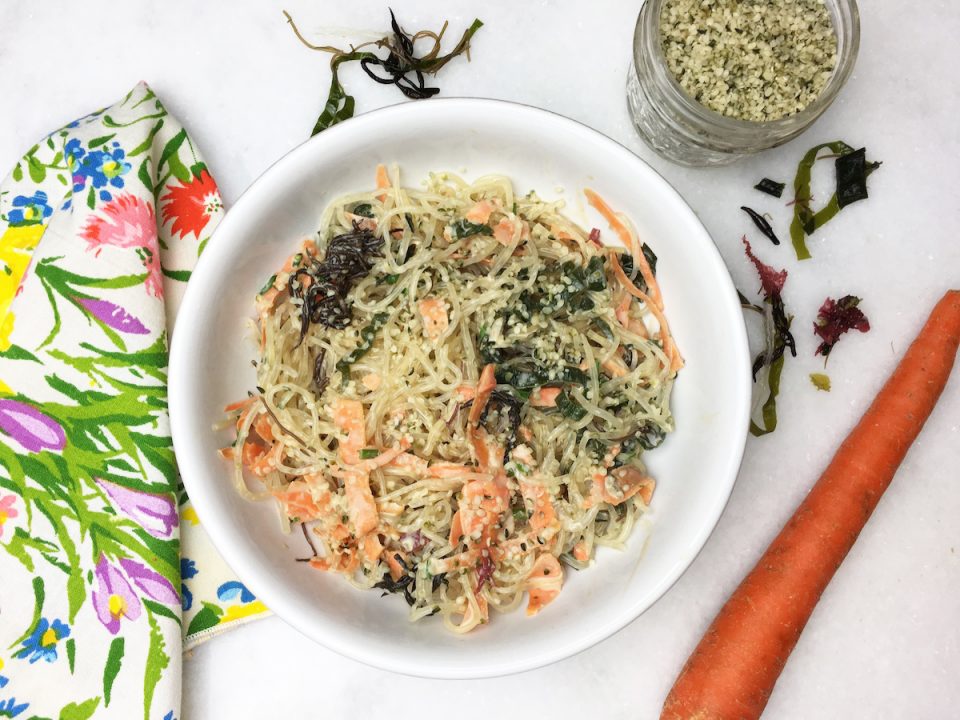 Kelp Noodle Salad
Notes: I love this kelp noodle brand. Also, this is a favorite mixed seaweed, which I like to add in.
Ingredients:
1 kelp noodle package
1/2 of a carrot, grated
2-3 scallion stalks, chopped
hemp seeds or sesame seeds for garnish
handful of mixed seaweed (optional)
Dressing:
2 tbsp cashew butter (almond or peanut butter works too)
2 tbsp apple cider vinegar
1 tbsp tamari
1/2 tsp ginger powder
1/4 tsp garlic powder
Directions:
Combine dressing ingredients, mix well, and set aside.
Open kelp noodle package and rinse well in a colander.
Add noodles, carrots, scallions to a large bowl. Drizzle dressing on top and combine well. Sprinkle with hemp or sesame seeds.
Serve and enjoy!
Did you make this recipe?
Be sure to tag @therefinedhippie on Instagram and hashtag #therefinedhippie!

print