BBQ Jackfruit Sweet Potato Sliders
I recently participated in a wellness event where I had the pleasure of showcasing some of my plant-based treats, chatting with people about plant-based food, my nutrition counseling, and just general holistic living. It was a lovely evening surrounded by some extraordinary and beautiful people. The food was, needless to say, a hit! I served "chickpea tuna salad" with crackers, carrot cake, and these BBQ jackfruit sliders.
When I was planning what food to bring, jackfruit bbq immediately popping in my mind. However, my first notion was to put them on crackers, then I thought "how can I make these even more exciting?" Put them on baked sweet potatoes, that's how!
This recipe is perfect for dinner or a dinner party! Really any celebration! They add a beautiful pop of color to any food spread. They'll also appease any and all tastes buds, omnivore and herbivores alike!
Simply slow simmer the jackfruit per my instructions then place on top of your roasted sweet potatoes. Garnish with purple cabbage, scallions and voila! A beautiful dish that everyone will be raving about!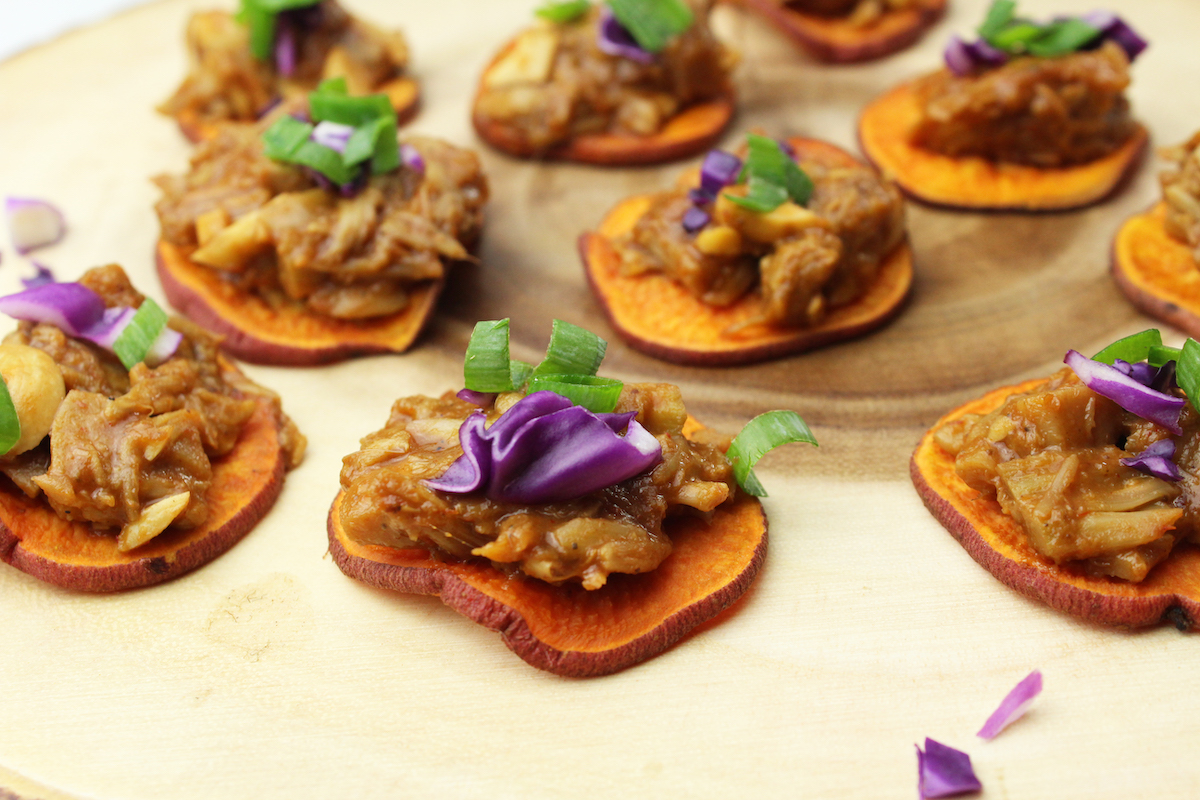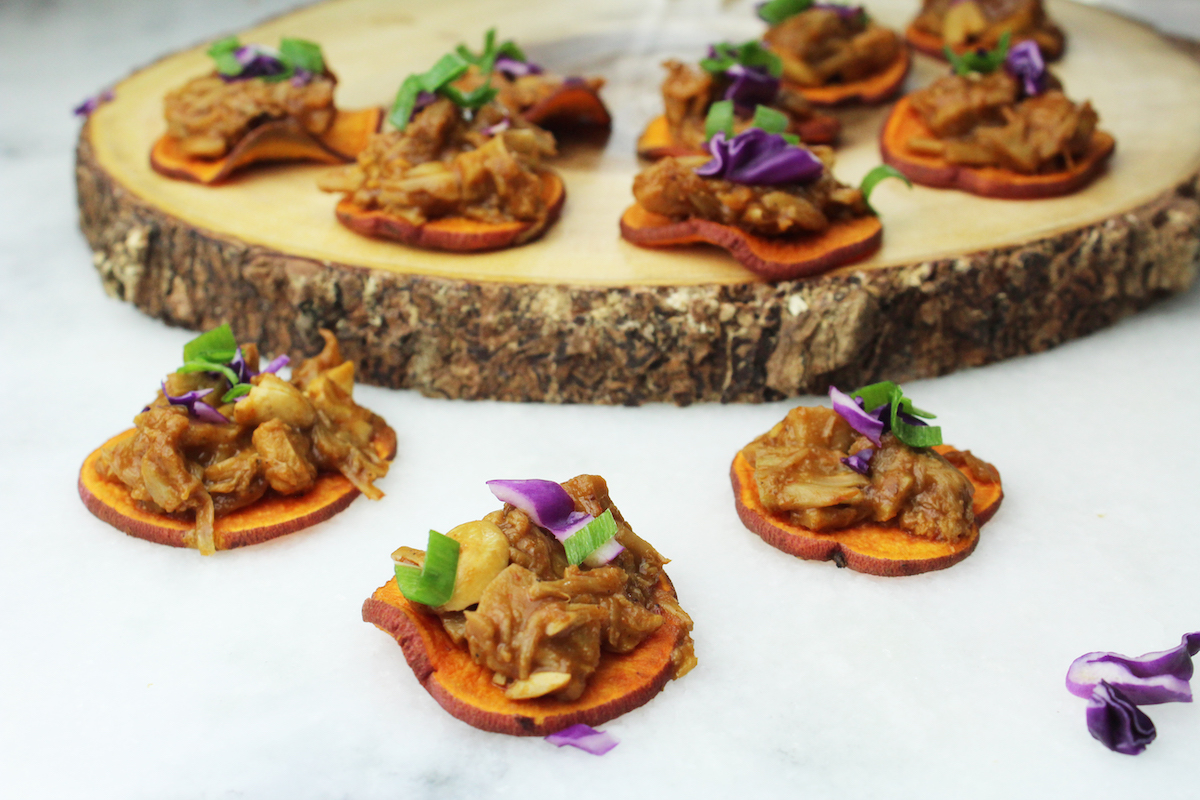 Ingredients:
1 large sweet potato
1-1.5 tsp coconut oil
purple cabbage and scallions, chopped
salt
Directions:
Cook BBQ jackfruit per instructions. Set aside.
Preheat oven to 400º.
Slice sweet potato (with skin) into about 1/5 inch thick "chips". Lightly coat with melted coconut oil. Place on parchment paper lined baking sheet and sprinkle with salt.
Bake for 20 minutes, flipping the sweet potatoes half way through.
Remove from oven and distribute BBQ jackfruit on top, garnish with purple cabbage, scallions and enjoy!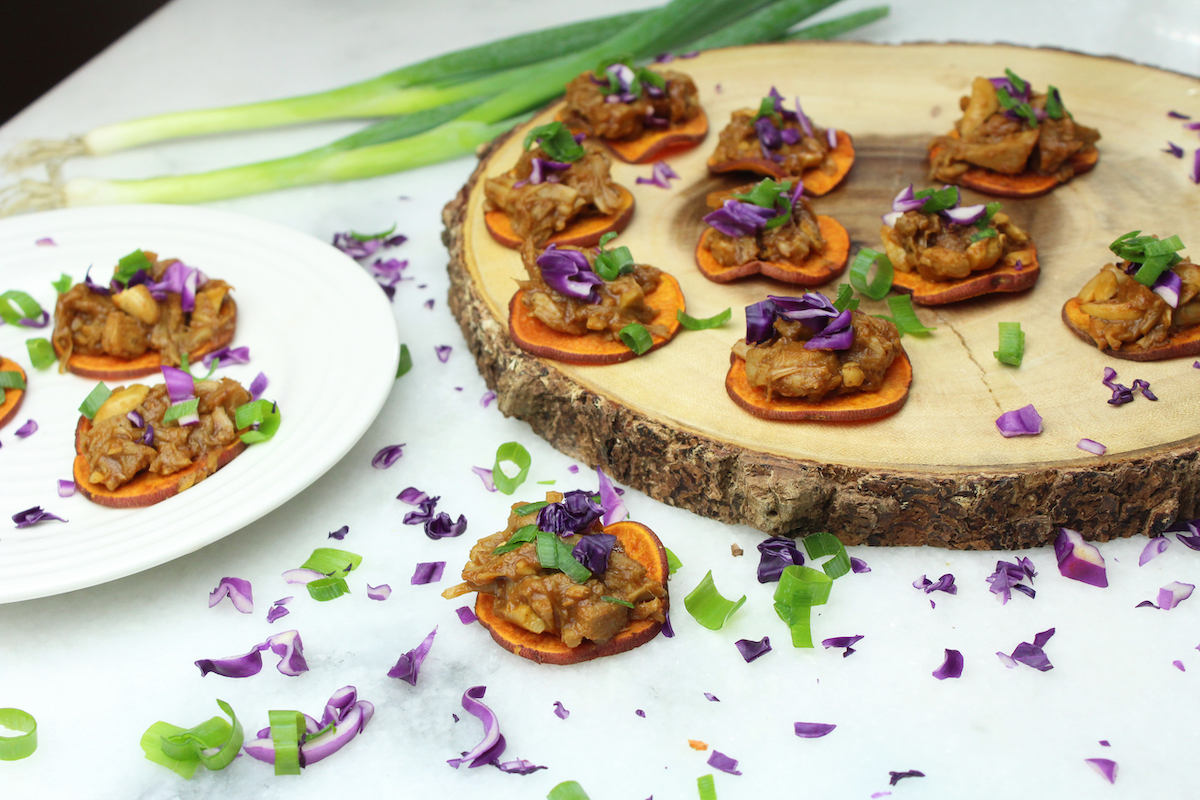 Did you make this recipe?
Be sure to tag @therefinedhippie on Instagram and hashtag it #therefinedhippie!

print