Miso Cannellini Bean Hummus
Well, I'm officially obsessed. This miso cannellini bean hummus is a new favorite! It's rich, creamy, and a nice change from traditional chickpea hummus. Serve it with your favorite crackers, veggies, or add a dollop to some pasta.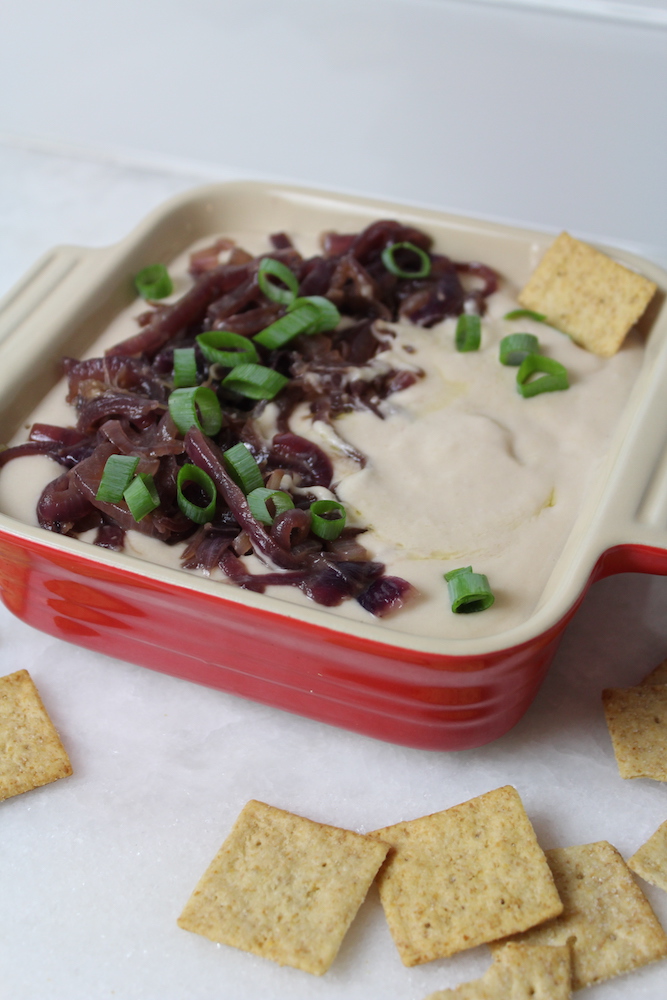 Miso Cannellini Bean Hummus
Ingredients:
1.5 cups cooked organic cannellini beans (or one jar of Jovial beans*)
1 medium red onion (around 2 cups when chopped)
2 tbsp tahini
3 tbsp juice from bean jar/can*
2.5 tsp white miso (1.5 tsp for the beans and 1 tsp for the onions)
1 tbsp lemon juice
1/4 tsp garlic powder
Directions:
Chop red onion into thin strips, around 1-2 inches long. Heat a large pan on medium/high heat and add a splash of veggie broth or water. Sauté the onions until they are a deep purple (around 10 minutes). Add liquid as needed to ensure the onions don't stick.
While the onions are cooking, add all the other ingredients to a blender, leaving out 1 tsp of miso paste for the onions. Don't process just yet.
When the onions are finished, remove from heat and add 1 tsp miso paste. Mash and stir the miso in well. Add a little water or extra olive oil if you need.
Add 1 heaping tbsp of the sautéed onions to the blender. Blend until smooth. Add 1-2 tbsp of water as needed, to reach desired consistency.
Pour the bean mixture into your favorite dish and arrange the rest of the sautéed onions on top. Garnish with scallions or parsley. Enjoy!
*Note: I am really loving Jovial canned beans. The company soaks their organic beans before pressure cooking, which helps make the beans easier to digest and the nutrients more bioavailable.
*If you are using beans that you cooked from dry, simply replace bean juice with more water. You could also use extra virgin olive oil.

print