Cooler weather is on the horizon and so are warm nourishing soups. One of my go-to meals during the fall and winter season is coconut curry soup. My recipe has evolved into this easy-to-make, no-hassle dish that is quick to please everyone. Sometimes I serve it over brown rice or by itself. Below I've included some of the veggies I normally incorporate but you really can use whatever you like. There is no science here! Have fun with it! The more colorful the better!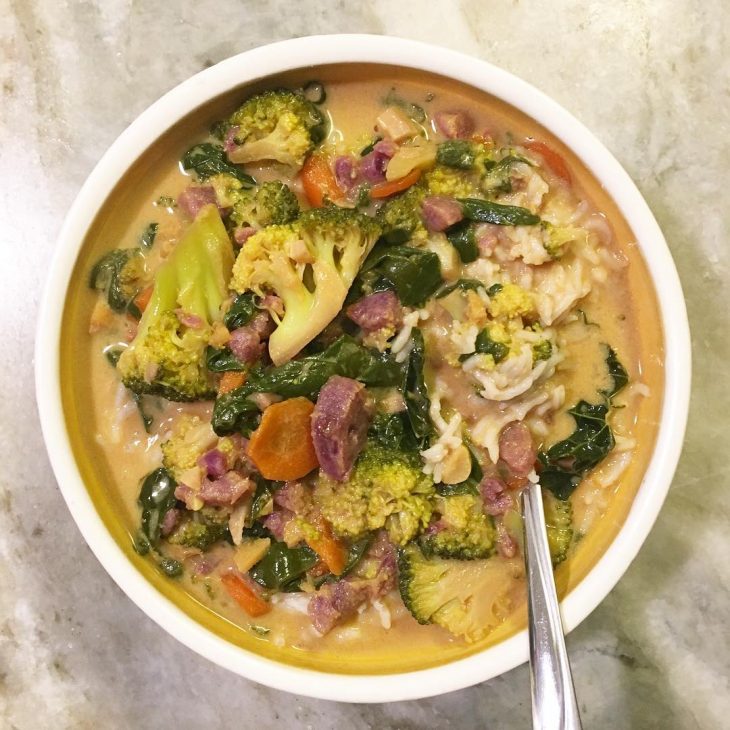 Servings: 4
Ingredients:
1 can coconut milk
1.5 cup vegetable broth (I like to use my homemade version but if I'm out I use organic veggie broth)
1/2 inch fresh ginger, minced
1/2 inch turmeric, minced (optional)
2-4 garlic cloves, minced
1 tbsp coconut oil
1-2 tbsp red curry paste* (see note below)
1 head broccoli, chopped
Large handful of spinach or kale (or both!)
1 large carrot, chopped
1 large orange or purple sweet potato, peeled and cubed
1 white potato, peeled and cubed
Fresh basil (save for when soup in finished)
1/2 lemon, juiced
Directions:
If you are serving over rice, go ahead and get that started. I use organic basmati or jasmine brown rice or organic white basmati rice.
Heat coconut oil in large pot over medium heat.
Add garlic and ginger, sauté for a few minutes.
Add rest of veggies. Heat for 5 minutes, stirring.
Add liquid ingredients, bring to boil, then lower to a simmer. Add in seasoning.
Simmer for 45 minutes or until veggies are tender.
Add basil and lemon juice.
Serve and enjoy!
Possible Additions: Avocado, cilantro, parsley (once cooked), chickpeas, or cashews (while cooking)
*Note: If you don't eat nightshades (which are in the red curry paste) or you don't have it in your cabinet, you can use this mixture of spices instead.
2 tsp turmeric, 1 tsp cumin, 1 tsp coriander, 1 tsp ginger, 1/2 mustard powder, 1 tsp garam masala

print