These chickpea flour frittatas are a perfect addition to breakfast. I like to make them during the holidays or when I have guests. They can also be frozen individually and warmed up for a quick breakfast or snack.
**Note: I've found that traditional muffin tins actually work best if they are oiled well with coconut oil. The frittatas seem to pop out of tins much easier this way than they do with non-stick tins.
Ingredients:
1/2 cup water
1/2 cup non dairy milk (I used almond milk)
1 cup chickpea flour
1/2 cup extra firm tofu
Kite Hill Ricotta cheese
2 tbsp nutritional yeast
1/4 tsp baking soda
1/2 tsp cream of tartar
2 tsp tamari sauce
1/2 tsp ground turmeric
1/2 tsp coconut oil
1/2 cup onions, diced
1 cup spinach, washed and chopped
1/2 of a small tomato, diced
2-3 garlic cloves
1/4 tsp salt
1/4 tsp black pepper
Mini muffins tins or regular sized muffin tins**
Directions:
In a medium sized pan, add coconut oil and heat on medium.
Add in chopped onions and garlic. Sauté.
Add in other veggies (tomatoes, spinach, scallions).
Add water, milk, chickpea flour, tofu, nutritional yeast, baking soda, cream of tartar, turmeric, salt, pepper, and tamari, to blender and combine well.
Pour liquid into pan with veggies and stir together.
Grease desired muffins tins with coconut oil.
Scoop mixture in tins, filling 2/3 full.
Use fork to break up ricotta cheese and sprinkle on top of batter.
Place in oven and back for 20-25 minutes (regular muffins tins) or 10-15 minutes (mini muffin tins)
Remove from oven and let cool for 5 minutes.
Carefully remove from tins. A butter knife may be needed to scrap down sides.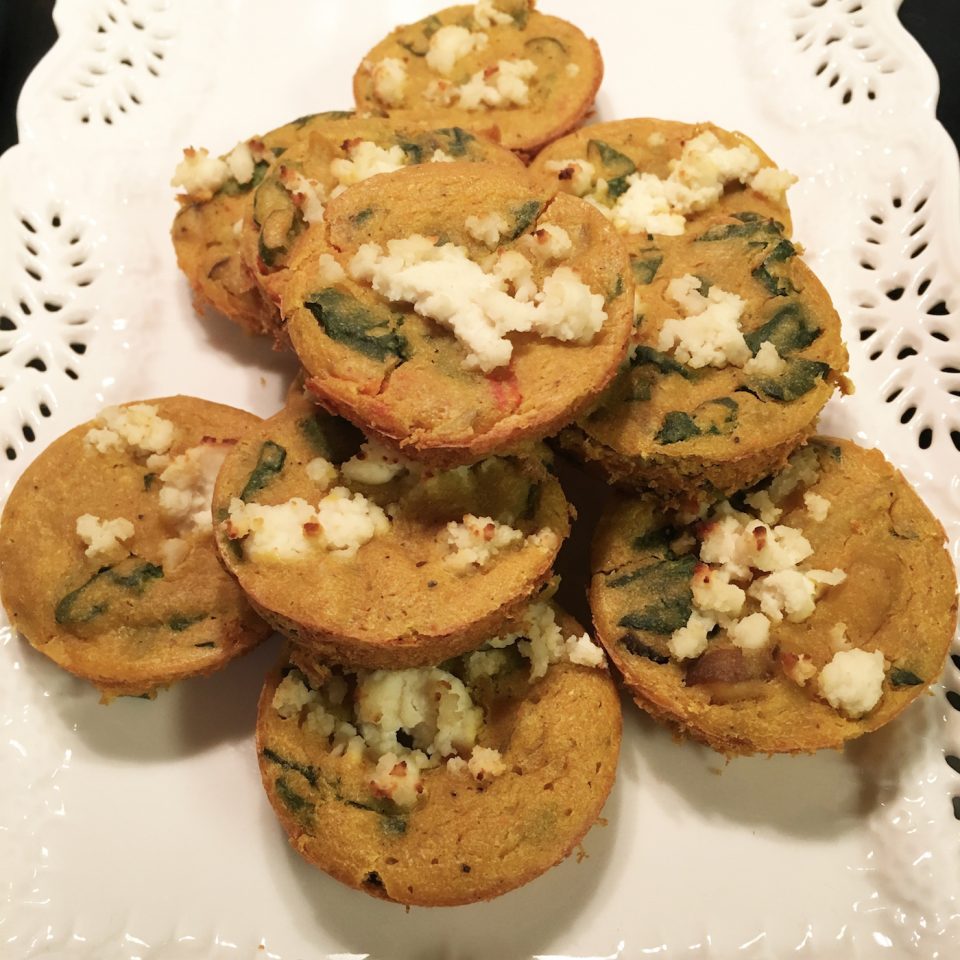 print