Cashew Ginger Soba Noodles
I recently received a cookbook by the Minimalist Baker, an amazing cook and often a source of inspiration for me. Inside was a delicious cashew soba noodle recipe that I modified and turned into my own.
Soba noodles are one of my favorite noodles! They're made from buckwheat flour but have no fear, there is no gluten in buckwheat. Indeed, it's quite a deceiving name. This Japanese grain is nutrient packed with antioxidants, protein, fiber, manganese, magnesium, phosphorus, as well as some iron, zinc, folate, and vitamin b6.
When choosing soba noodles always look at the ingredients if you're following a gluten-free diet, some brands will add wheat. Be sure the package says 100% soba/buckwheat noodles and gluten-free.
GF Vegan Cashew Ginger Soba Noodles
Serves: 2 as a main dish or 4-5 as a side.
Cook time: 10-12 minutes
Ingredients:
5 ounces soba noodles (can be subbed for other gluten-free pasta)
1 cup frozen peas
1 large carrot, sliced thinly (makes about 1 cup)
1/4 cup roasted cashews*
4-5 broccolini stalks, chopped small
cilantro for garnish
lemon or lime wedges
Cashew Ginger Sauce
3 tbsp cashew butter
2 tsp fresh ginger, minced
1 tbsp tamari
1 tbsp lime or lemon juice
1 tsp sesame oil
1/4 tsp garlic powder
Directions:
Cook soba noodles according to package instructions.
While the noodles are cooking, add peas, carrots, and broccolini (I chop the broccolini in 1/2- 1 inch pieces and include the stalk) to a large pan with 3-4 tbsp of water and cover. Cook on medium heat until veggies are desired tenderness. Usually about 5-8 minutes. Add more water if the veggies begin to stick to the pan.
Combine all cashew ginger sauce ingredients in small bowl and slowly pour a bit of hot water over. Whisk. Add water until it reaches the desired consistency.
When the noodles are ready, drain and combine veggies and sauce. Mix well. Add in roasted cashews and cilantro. Serve with a lime or lemon wedge.
*Note: If you're like me and don't have already roasted cashews (I only buy raw), then roast them in the toaster oven or oven for a few minutes. Turn heat to 325º for 5-10 minutes.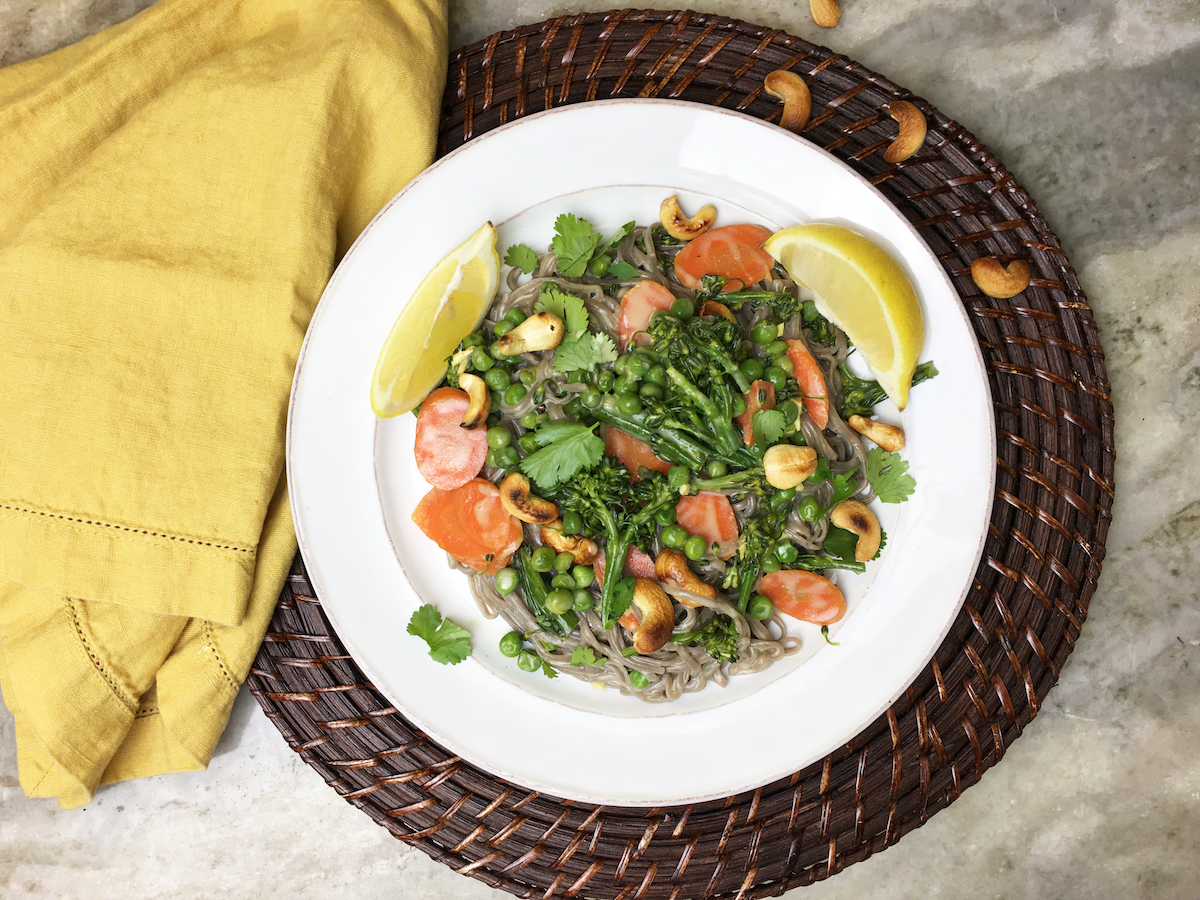 print