Servings: 8-10 patties
Overall Prep/Cook Time: 30-40 minutes
Ingredients:
1 large beet (about 1.5 cups when diced)
1 15 oz can black beans, rinsed
1/2 of a medium onion, diced small
1/2 c of mushrooms, diced small
1/2 c oat flour*
1/4 c brown rice flour
2 flax eggs (2 tbsp ground flaxseed + 4 tbsp water)
1/4 tsp paprika
1/4 tsp garlic
1/2 tsp cumin
1/4 tsp sage
1/4 tsp salt and/or pepper to taste
Directions:
In a small bowl combine ground flaxseed and water. Set aside.
Preheat oven to 350º.
In a large pan, add diced onions and mushrooms. Saute until tender. About 5-10 minutes.
Place diced beets in a food processor and pulse until they are a grated texture. Add in cooked onions, mushrooms, and black beans. Pulse until combined well but still have texture. Don't over process.  **If you don't have a food processor please see the note below.
Put beet mixture in a large bowl and add in dry ingredients (flours and spices) along with the flaxeggs. Stir well.
Line baking sheet with parchment paper.
Form the beet mixture into patties and place on parchment paper.
Cook for 20 minutes, flipping half way through.
Remove from oven and serve with your favorite bread and some sweet potato fries!
Notes:
*If you don't have oat flour but have oats, simply add oats to Nutribullet, food processor, or blender. Voila oat flour!
**If you don't have a food processor, use a cheese grater to grate the beets. For the cooked, vegetables make sure they're diced small. Add black beans to the pan of veggies (once they're cooked) and use a potato masher to process the mixture. Put the grated beets in the pan and mix well. Transfer to a large bowl. Now go back up the direction #5 to finish the recipe.
Possible Toppings: Avocado, tomatoes, spinach, lettuce, mustard, and/or ketchup.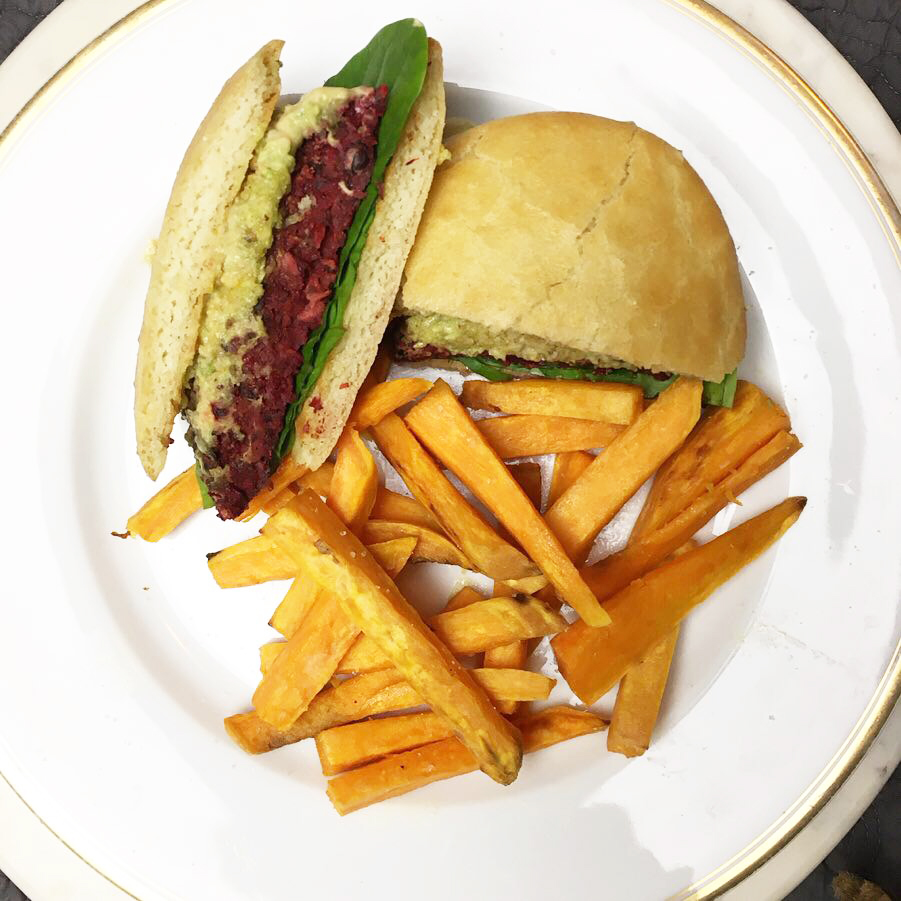 print