It's that time of the year – beautiful fresh basil. This recipe combines a few of my favorites, basil and kale, to create a fresh pesto perfect for pasta, pizza, or simply with crackers.
Why is basil so wonderful? It's of course delicious, but it also has tons of healing properties. Often referred to as the "King of Herbs", basil is part of the same family as mint, oregano, and rosemary. It's been used medicinally in India and Southeast Asia for thousands of years.
There are 35 different varieties of basil including Thai basil, lemon basil, and the more common Italian basil.
Some benefits of basil include:
anti-inflammatory
high in antioxidants (helps fight disease)
cancer fighting
antimicrobial properties (helps body fight viruses and infections)
helps alkalize the body
improves liver function
reduces high cholesterol
improves digestion
Basil and Kale Pesto
Directions:
Add all ingredients to a food processor and process until desired consistency is reached.
Taste test and adjust accordingly.
Enjoy on crackers, pasta, buddha bowl, rice, pizza, and more!
Ingredients:
2 packed cups fresh basil (Italian variety)
1 cup packed lacinato kale
2 tbsp lemon juice
1/4 cup + 1 tbsp pine nuts*
1/4 cup pumpkin seeds*
1/2 tsp garlic powder
1/4 tsp salt
2 tbsp nutritional yeast
2 tbsp olive oil*
6 tbsp water
Note: Pine nuts and pumpkin seeds can be replaced with walnuts or a blend of the different seeds/nuts.
If oil free simply replace olive oil with 2 tbsp of water.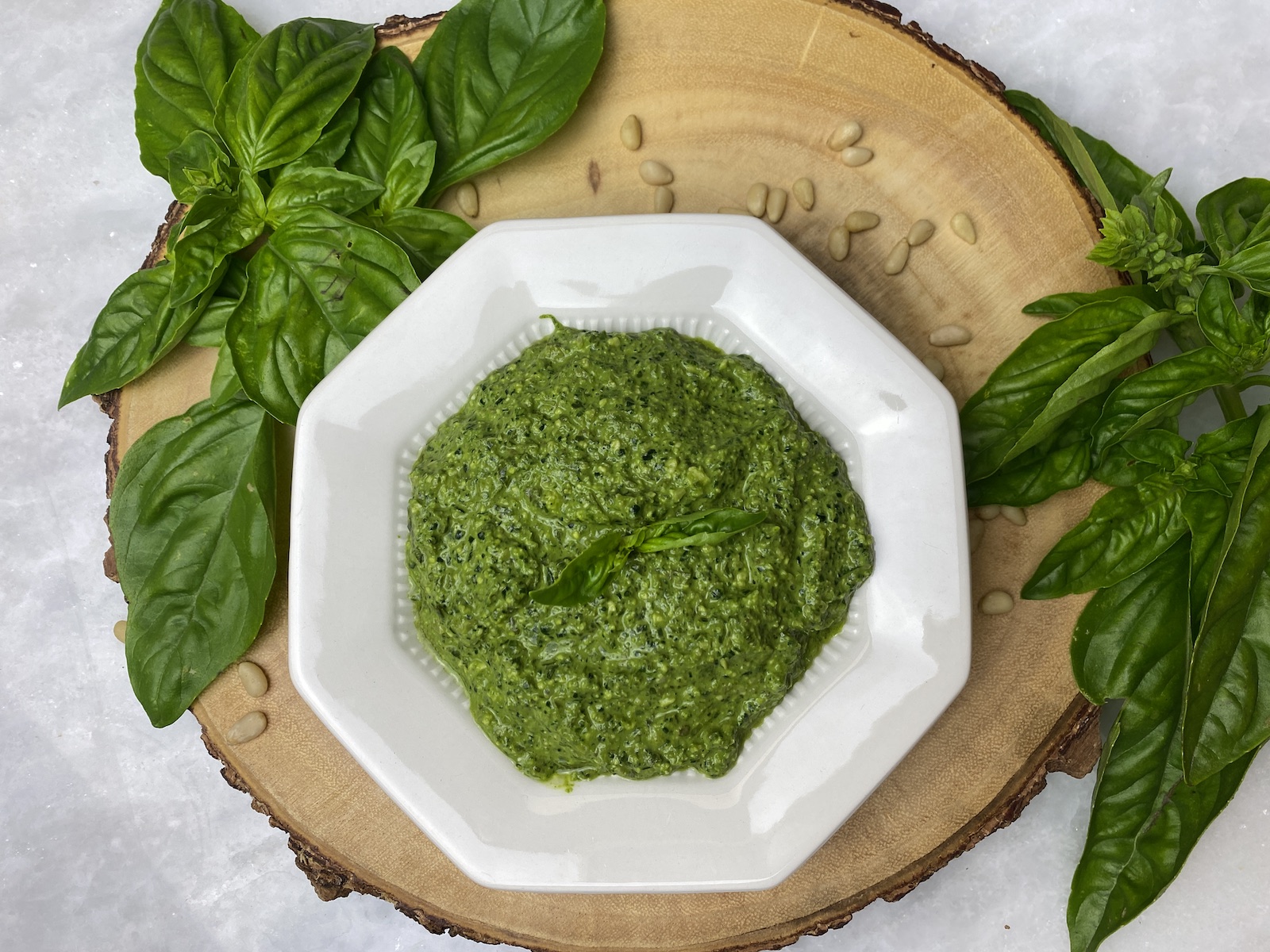 print