Smashed Potatoes with Mustard Aioli and Basil Pesto Sauce
Potatoes are amazing, I've known that for ages. But I didn't know I could love them even anymore until I tried them smashed. Who knew crushing them just a little bit and roasting could make these delightful little tubers even better?! Well, it does. I have no idea why, but they are currently everything to me!
Almost even more wonderful are the sauces that I created for the smashed potatoes. The first is my take on the classic basil pesto. However, this time I added in some spinach, for an extra dose of greens, and used sunflower seeds instead of the traditional nut, making this pesto oil-free and nut-free!
The second sauce is a vegan mustard aioli that's so creamy but without the need for any mayo!
This smashed potato recipe is pretty much as easy as it gets, making it a perfect snack or simple dinner option. You can choose to make both sauces, one of them, or none and eat the potatoes as is. There's no wrong way to eat these scrumptious taters!
  

Smash Potatoes with Mustard Aioli and Basil Pesto Sauce
Note: If you don't have small potatoes you could use regular sized potatoes and just cut them in half or quarters before steaming.
Ingredients:
10-12 small potatoes
salt and pepper to taste
avocado or coconut oil
Mustard Aioli
2 tsp Dijon Mustard
3/4 cup cashews, soaked
1 tsp lemon juice
1 tsp apple cider vinegar
1/2 tsp garlic powder
1/4-1/2 tsp salt
7 tbsp water
Basil Pesto
1/2 cup packed basil
1/2 cup packed spinach
2 tbsp sunflower seeds
1 tbsp nutritional yeast
1 tbsp lemon juice
5-6 tbsp water
1/4 tsp salt
Directions:
Add cashews to a small bowl and cover with boiling water. Set aside.
Add steamer basket to a large pot and fill water accordingly. Turn to medium/high heat and add in cleaned potatoes. Cover and steam for 15-20 minutes or until tender with a knife. You could also boil if that method is preferred.
While those are cooking preheat over to 400º. Line a baking sheet with parchment paper and set aside.
Combine all basil pesto ingredients in blender and blend until desired consistency. Pour in container and set aside.
When potatoes are tender remove from steamer basket and onto baking sheet. Let cool for a few minutes. Use the bottom of a pan or bowl to gently smash potatoes down. Lightly drizzle with oil and sprinkle with salt and pepper. Place in oven and bake for 20 minutes or until golden brown.
While those are baking drain cashews and add all mustard aioli ingredients to blender. Blend until smooth. You may need to scrap down sides as you go. Pour in container and set aside.
Once potatoes are golden brown, remove from oven and let cool. Serve warm with sauces.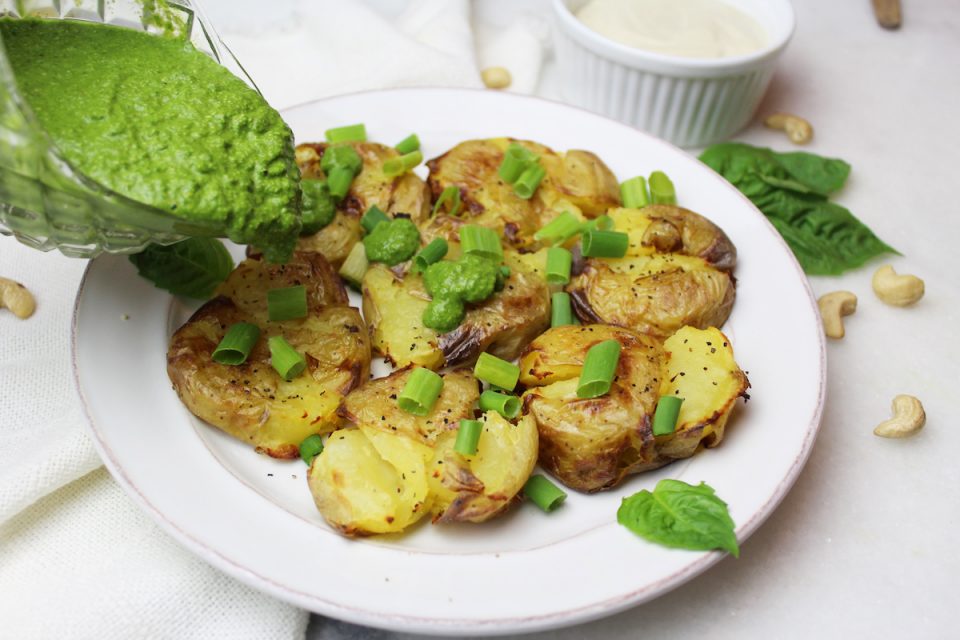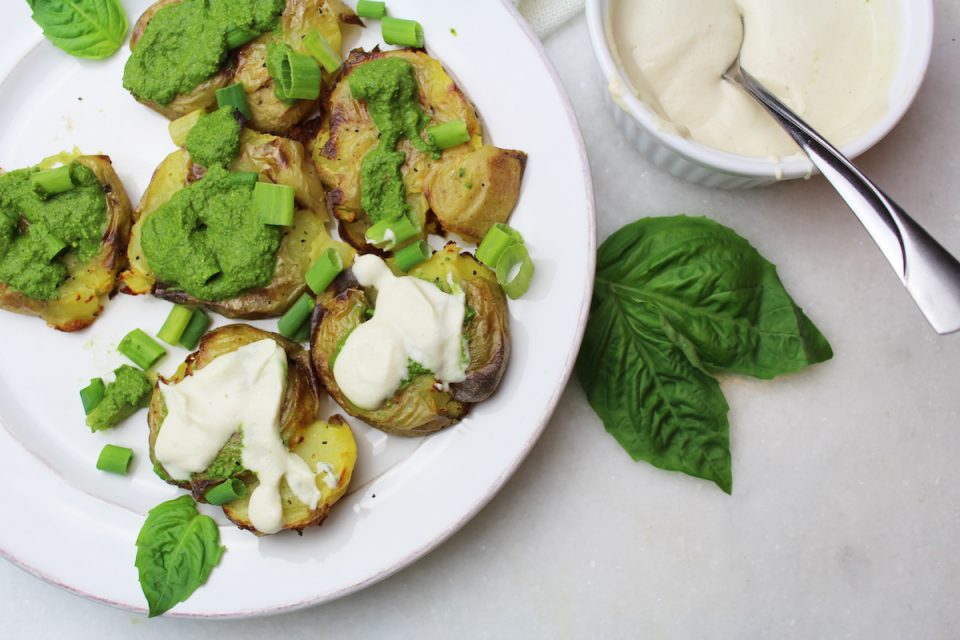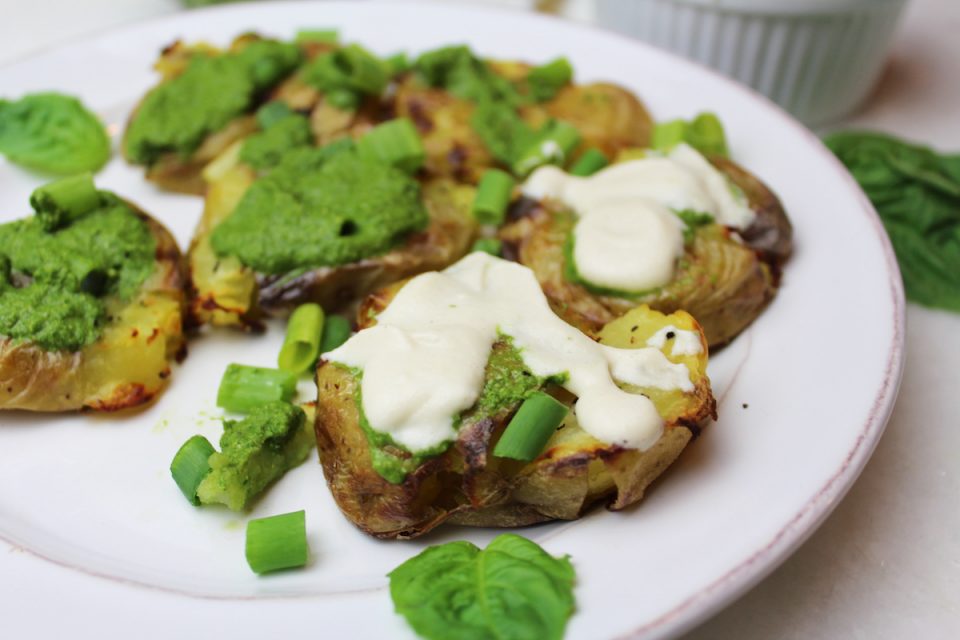 print