Peanut Butter Date Bars (vegan and gluten-free)
It's almost Halloween and that means kids (and adults too) will be over indulging in sugary sweets. Why not make the sweet treats healthier for us? Just as delicious and decadent, but with better ingredients. Of course these Peanut Butter Date Bars don't have to be just a Halloween treat, they can be enjoyed for any occasion!
This recipe was originally just sent out to newsletter subscribers, but I decided it needed to be shared with all visitors to the website, so here it is!
If you or those you love don't eat peanut butter it can easily be subbed with a different type of butter (cashew, tiger nuts, etc).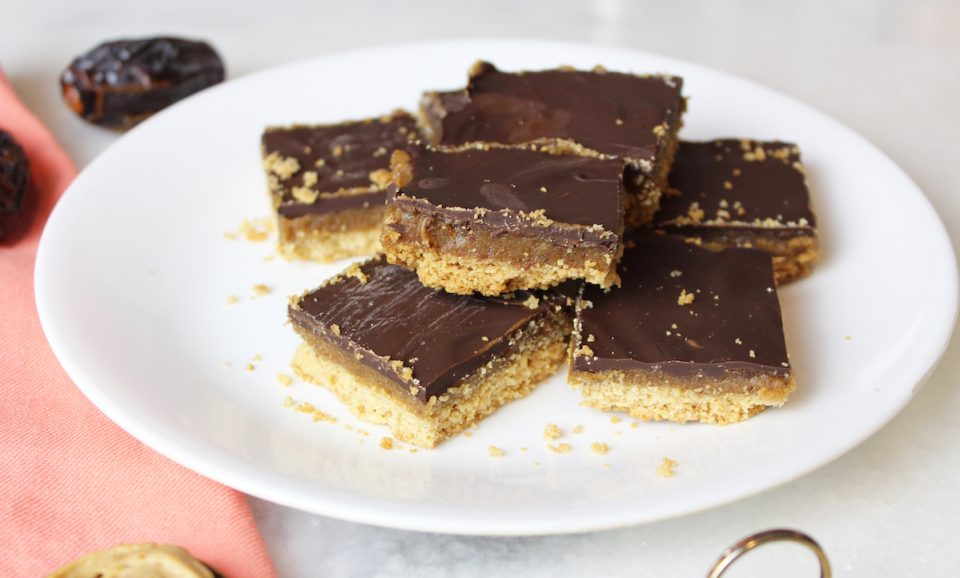 Peanut Butter Date Bars
Ingredients:
Top:
4-5 ounces vegan chocolate, semi-sweet
Middle Layer:
8 medjool dates, pitted
2-3 tbsp peanut butter
1 tbsp tahini
1/4 tsp salt
1 tbsp coconut oil
3 tbsp water
Bottom Crust:
1/2 + 3 tbsp almond flour
1/2 cup oat flour
2 tbsp maple syrup
1/4 cup coconut oil, melted
Directions:
Preheat over to 350º. Line 8″x8″ baking dish with parchment paper. You could also use a smaller baking dish if you want the bars to be thicker.
Combine crust ingredients in a bowl. Spread out in baking dish. Use the back of a spoon to gently press and smooth out into an even layer. Bake crust for 15 minutes.
While the crust is baking, add dates to a food processor. Pulse. Add in peanut butter, tahini, salt, and coconut oil and turn on high. Add in a few tbsp of water until mixture is desired consistency. Thick, but able to work.
Add water to the bottom of a double boiler pot, turn on medium heat. Add chocolate to the top pot and gently melt. If you have another favorite method of melting chocolate, do that.
When crust is finished, let cool for a few minutes then spoon date mixture on top. Use spoon to smooth out. Pour chocolate on top.
Place in refrigerator to let chocolate harden for 3o minutes. Remove and let sit for 5 minutes before cutting into squares.
Enjoy!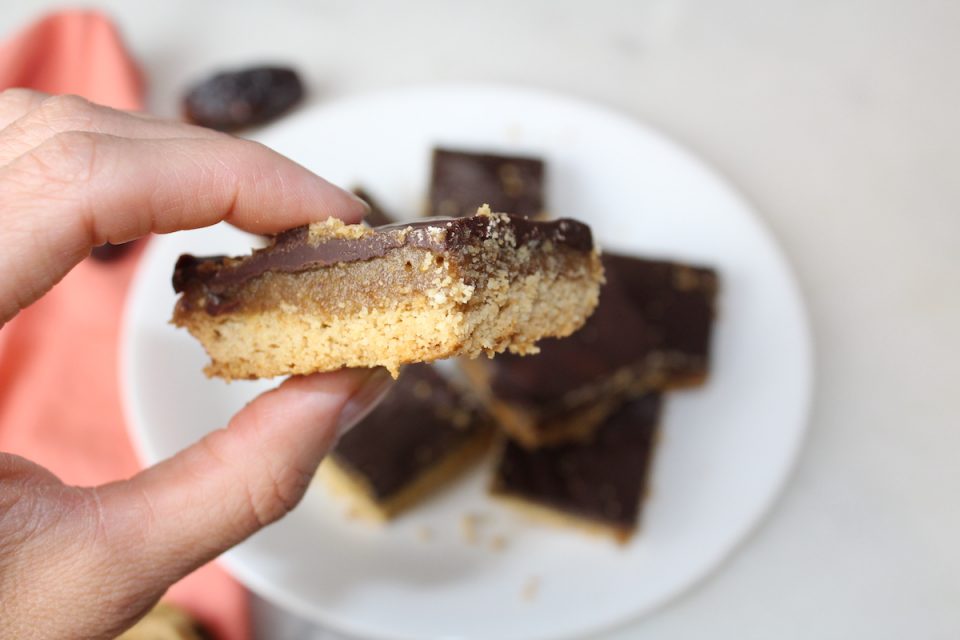 print