NYC: The Big Healthy Apple
The Big Apple, famous for street meat and pizza. No wonder healthy isn't exactly a word synonymous with New York City. However, on my visit I found quite the opposite. This seems true for a lot of big cities I've visited lately. When Derek and I went to Vancouver we were floored by all the delicious healthy food options. Of course that was the west coast, a region known for being first on the health wagon. I found New York to also have lots to offer in the wholesome food realm. Juice bars and organic restaurants seemed to be around every corner. Each one providing a different and exciting new menu.
My sweet mama and I just returned back down South from a late summer getaway in the big city. We enjoyed several Broadway plays including Phantom of the Opera and Aladdin (I highly recommend them both). While the shows took up our evening time activities, daytime was spent wandering (by foot and by many many taxis), exploring the city staples. The ones that didn't have a mile long lines of course. We also did a lot of dining. I might even say we ate our way through the city.
Prior to leaving, I had already researched some of the restaurants I wanted to try. I also received great recommendations from friends who had been past and/or present residents of the city. They did not steer us wrong. Each restaurant we visited was unique with its own original menu items, making it difficult to ever have a 'favorite'. Below is a recap of our NYC dining experience, which was nothing short of amazing.
ABCV – Thursday Dinner
Located in the Flatiron district, ABCV offers a fresh and polished take on plant-based cuisine. Arriving without reservations, we were happily seated on their outside street patio, which suited us just fine. The light and airy interior dining area was extremely lively but a bit loud. We found it to actually be quieter outside. Who would ever think that!?
ABCV is "plant based, non gmo, sustainable, artisanal and organic whenever possible. Locally and globally from small and family farms. ABCV is here to serve, inform and inspire a cultural shift towards plant-based intelligence, through creativity and deliciousness. Offering high vibration foods, embracing balance with beauty wellness wisdom & love, to nurture our personal and planetary ecosystems."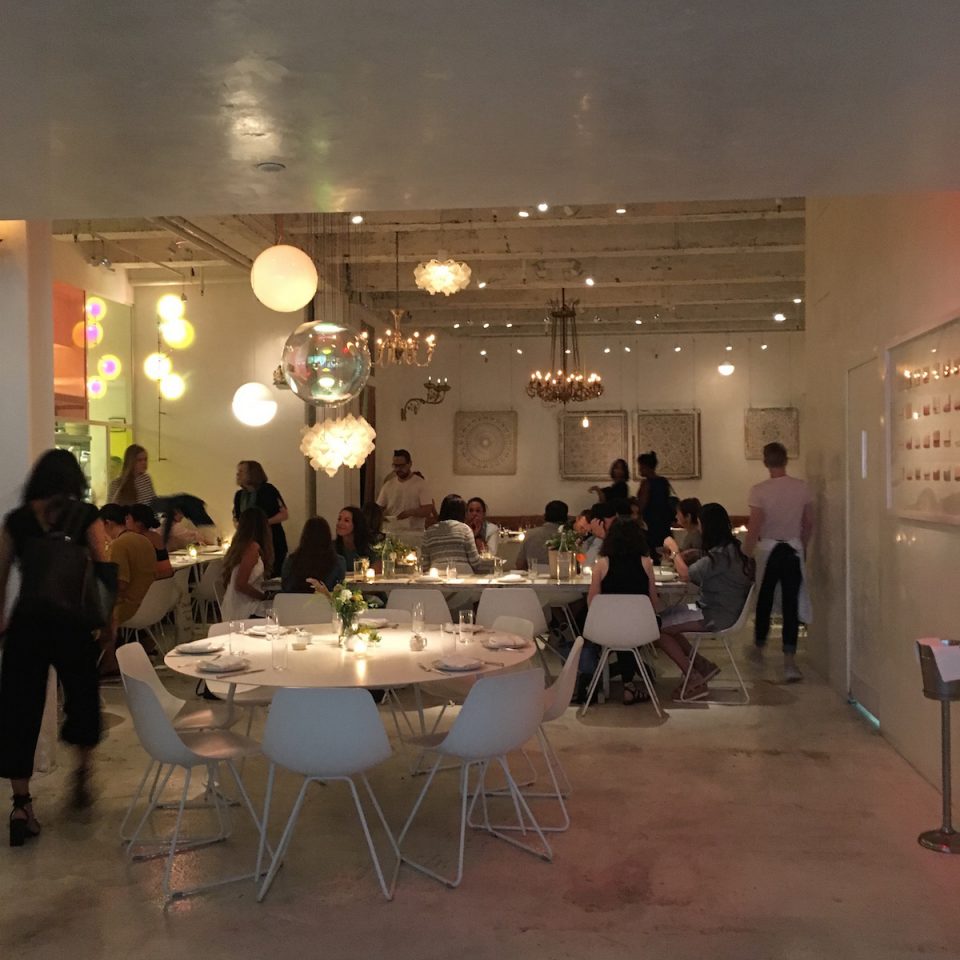 Below Picture: Green Pea Hummus with fresh pita and vegetable crudités.
Not Pictured (because we were so excited about eating): Roasted carrots with stone ground nut and seed butter, coconut rice with coconut sugar. For dessert we savored a coconut custard topped with fresh local berries.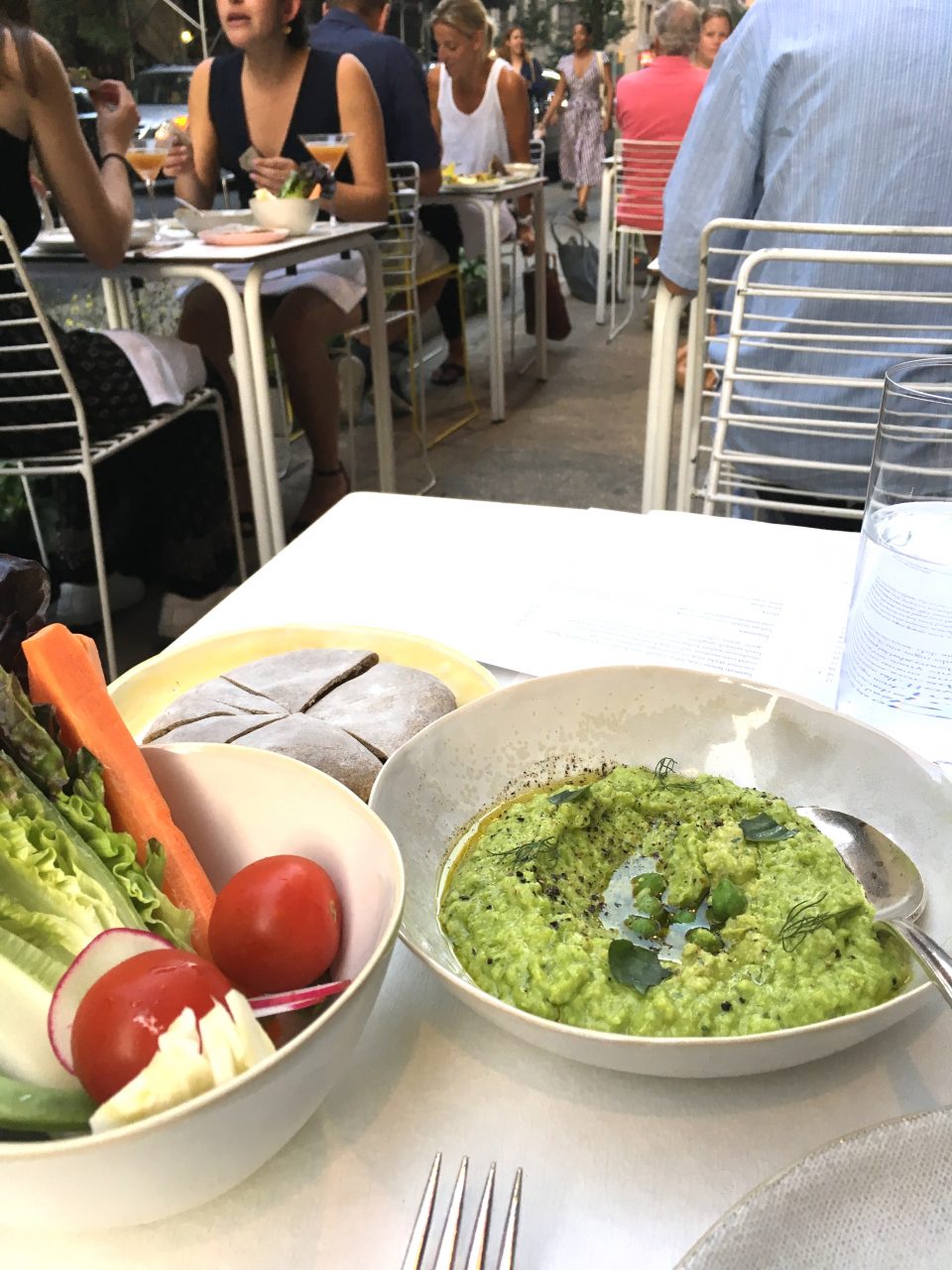 Bareburger – Friday Lunch

Founded in 2008, Bareburger has since expanded to a few dozen locations around the Northeast. The burger chain sources ingredients from local organic and all natural growers. Over HALF of the menu is vegan including the two 'burgers' my mom and I split.
The Farmstead (pictured on the left) was a sweet potato, kale, and wild rice patty topped with hummus, tomatoes, baby kale, avocado basil dressing, and a collard green wrap. The burger on the right, named the Thai Chia, was a quinoa, chia, and green pea patty, which had vegan american cheese, caramelized onions, wild mushrooms, baby spinach, 7 spice Thai ketchup, on a sprout bun. Ok, is your mouth salivating yet? I know mine is!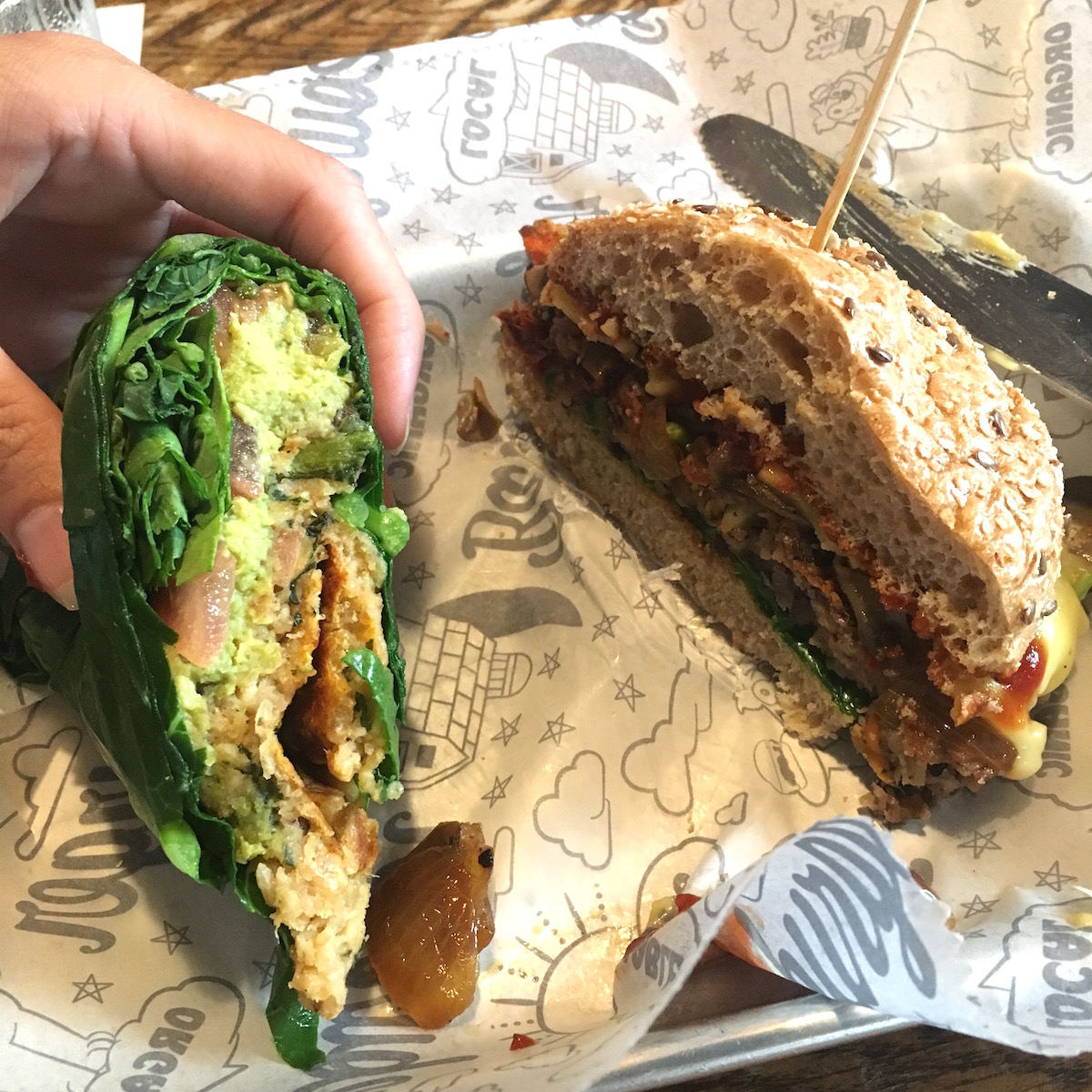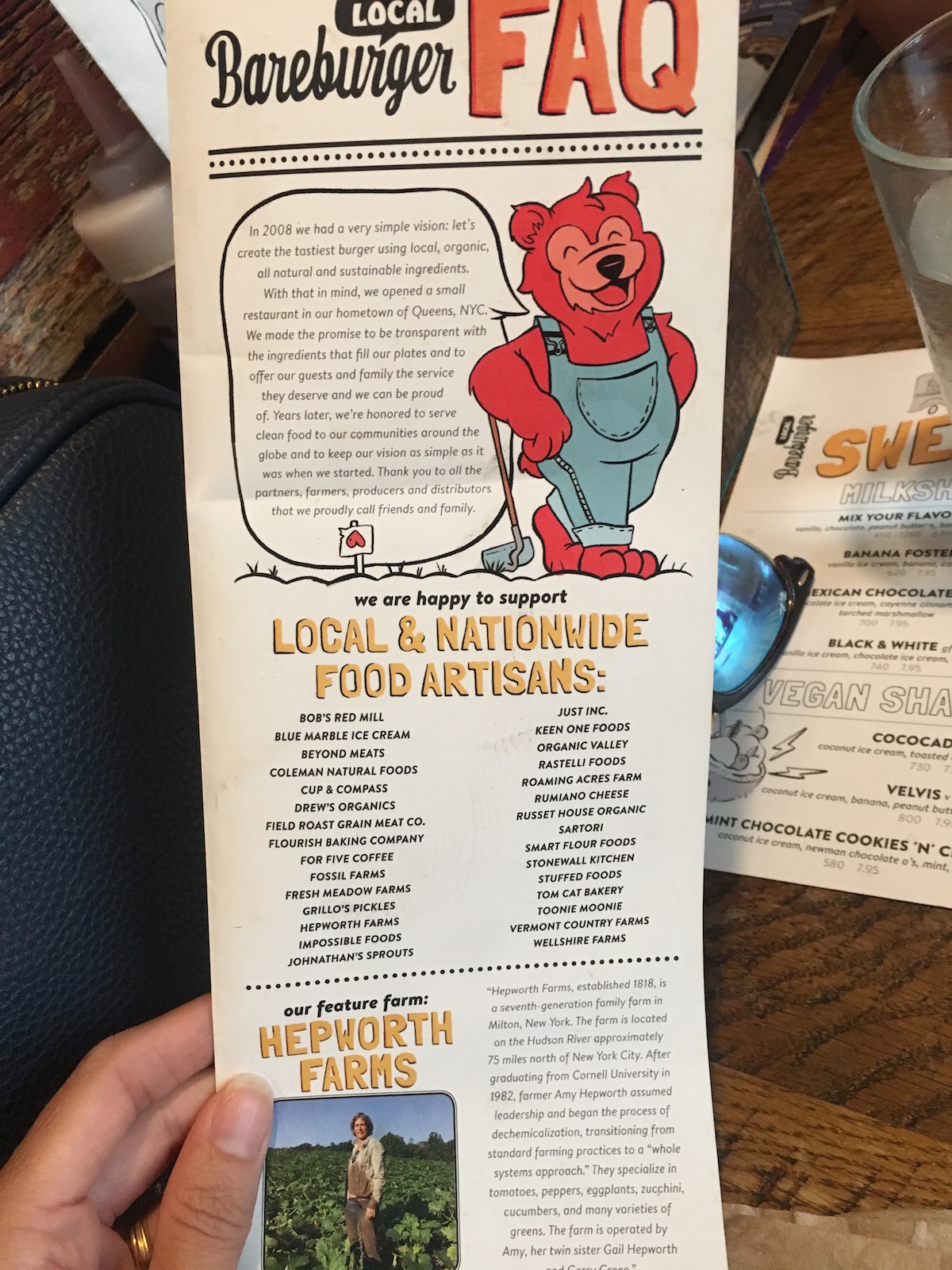 The Butcher's Daughter – Friday Dinner

Before heading to The Phantom of the Opera, we enjoyed dinner at a restaurant recommended by several friends. The Butcher's Daughter, which has two locations in Manhattan (we dined at the Hudson Street location), is a juice bar and cafe. They serve breakfast, juices, smoothies, juice cleanses, lunch, and dinner. Two of my good friends who live in the New York area joined us which made the experience even more enjoyable.
Juice Press – Saturday Morning Snack
I first noticed this spot on my Happy Cow app (shows vegan and vegetarian restaurants nearby your location). Juice Press locations seemed to pop up all over the city. While strolling around Saturday morning we stumbled upon one located close to our hotel; it was meant to be! This place is the real deal, offering 100% organic ingredients. We ordered a Blue Magic smoothie which included Blue Magic (a type of seaweed similar to spirulina, packed with B vitamins, minerals, and protein), hemp protein, pea protein, maca, banana, vanilla extract, hemp seeds, cinnamon, raw almond butter, and their homemade almond milk.
"Juice Press is on a mission to create the most trusted nutrition and wellness brand on the planet. Founded in 2010 with the vision of bringing a healthier, more transparent lifestyle platform to the market, we offer an expansive USDA organic product line as well as a variety of lifestyle resources.  In seven short years, Juice Press has opened more than 70+ retail stores and is now recognized as THE premiere organic "grab and go" health food provider.  Juice Press produces an unparalleled selection of organic, plant-based products and combines them with a short shelf-life to deliver customers a variety of fresh, nutrient dense products.  Transparency, integrity, and community define Juice Press, and as we expand, the company will ensure that these ideals remain at the heart of our brand.  We believe we have found a universally loved approach to providing an amazing product lineup and access to knowledge and information about the lifestyle we promote."
Candle Cafe – Saturday Lunch

Located on the upper east side, Candle Cafe offers eclectic vegan dishes and stir-fries in a cozy setting.
We enjoyed their Crystal Rolls (cucumber, mango, avocado, coconut meat, cilantro, pickled cabbage, rice paper, peanut sauce) as well as the Good Food Plate (this entree is a choice of 4 sides plus 2 dressings. We chose quinoa pilaf, tempeh wild mushrooms, and a mix of broccoli and cauliflower. The dressings were carrot-ginger and turmeric-herb).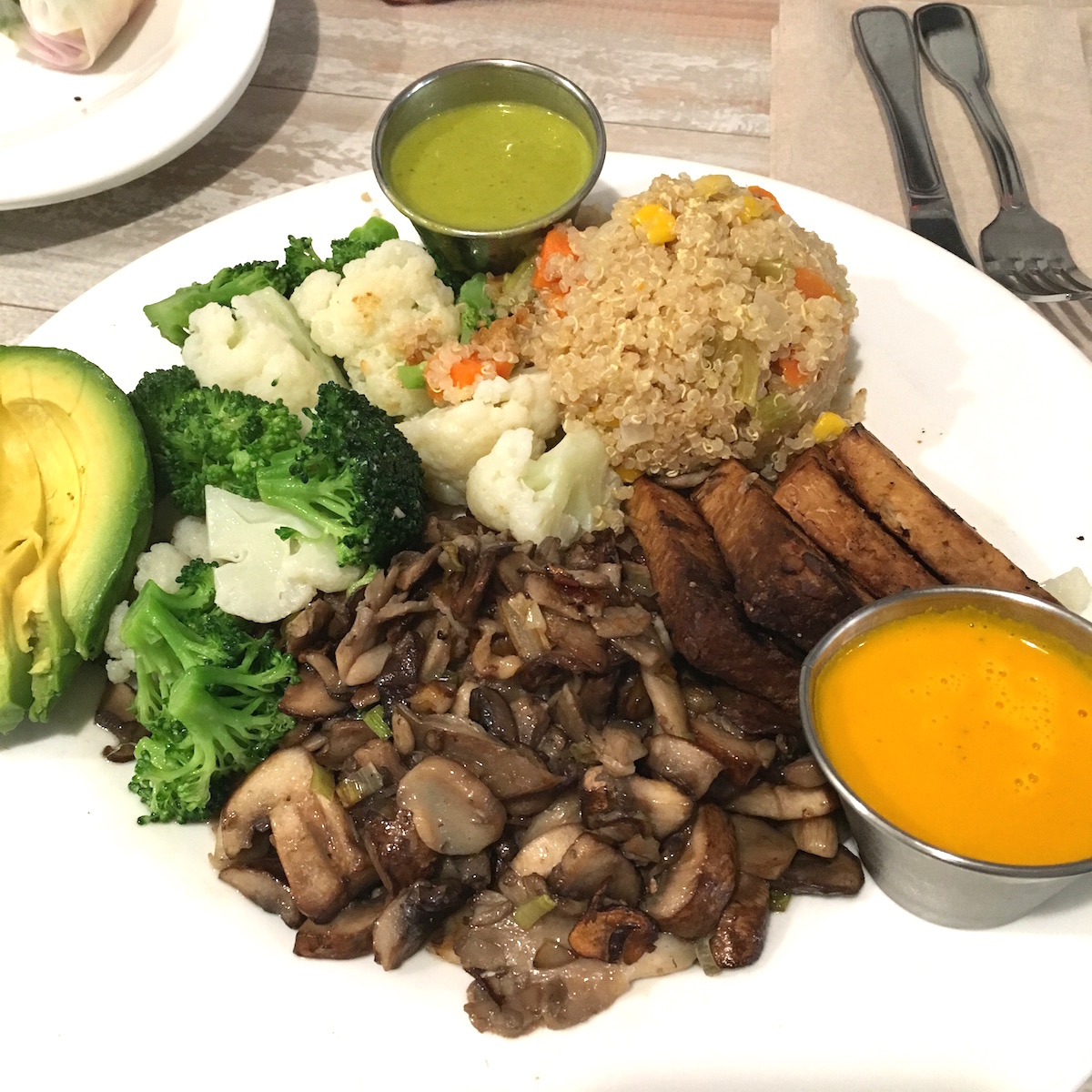 PS Kitchen
Before our last Broadway show of the trip, Aladdin, we ate at the  PS Kitchen right there in the Theater District. This tiny but mighty plant-based restaurant is on a mission to share nutritious food to the masses and help those in the community. All of their profits of the business are donated to charity.
While I didn't get a picture of the actual food (we were ravenous), I did get a shot of the bar area and my cute little mama. The beautiful white washed brick beam with a pink hue coming from the neon light on the wall which states 'Ready or Not'. Here again we split 2 entrees, the warm farro salad (sauteed kale, delicata squash, smoked macadamia nuts, and chestnut puree) and a P.S. burger (Beyond burger, queso, thousand island, and fries).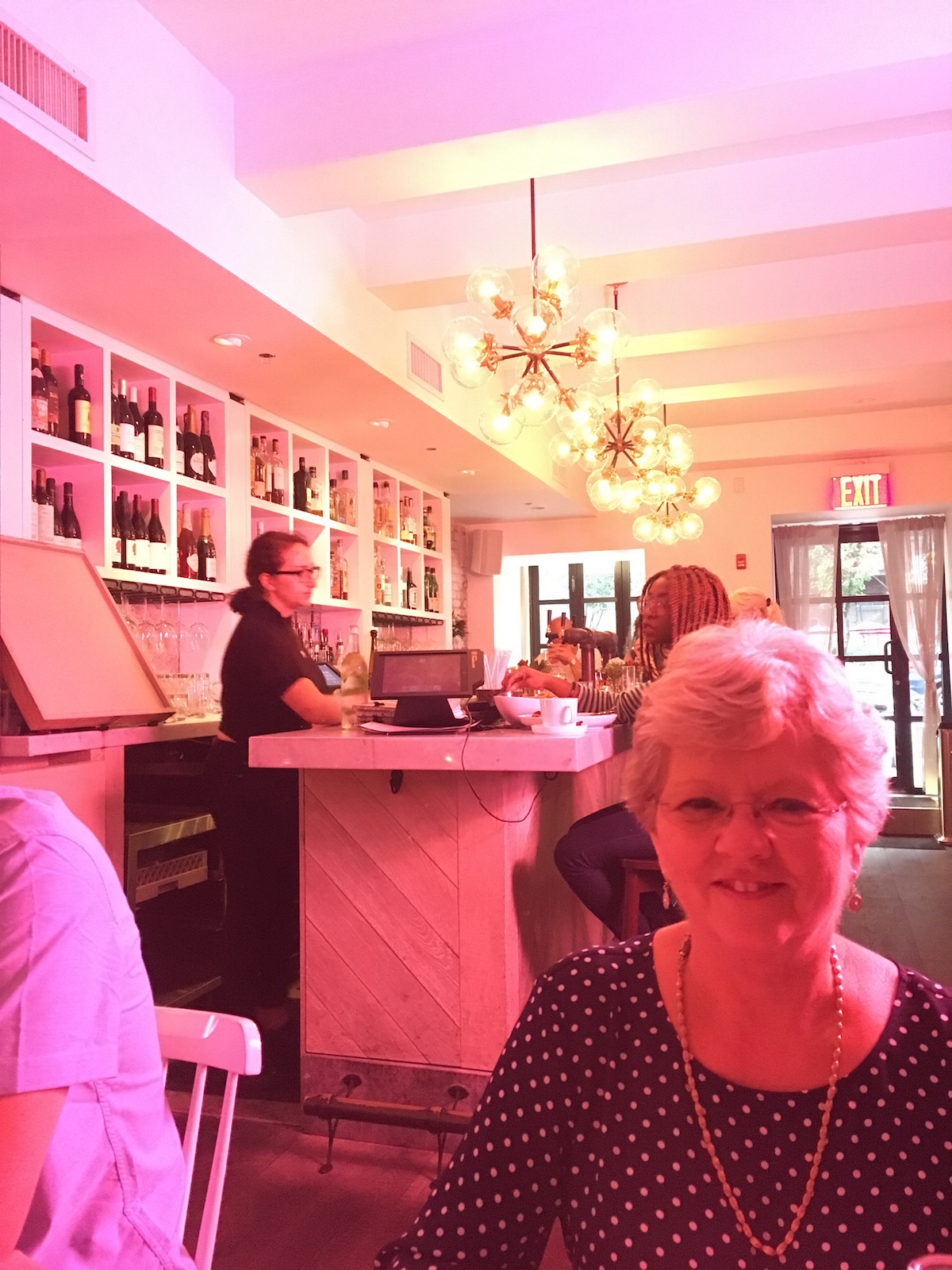 The Butcher's Daughter Brunch
Before our flight back down South, we stopped back off at The Butcher's Daughter for lunch. I had wanted to order that delicious cauliflower pizza again, however we soon found out they only serve brunch on the weekends. I was super bummed at first but that soon changed once I started eating my brunch fare. It was meant to be! Amazing! We both chose their 'weekend waffles', gluten-free made with almond milk and rice flour batter. They were served with fresh local berry compote, strawberry butter, and drizzled with maple syrup.
Not pictured: 2 Liquid Vitality Shots (lemon, ginger, honey, yuzu, echinacea tinture)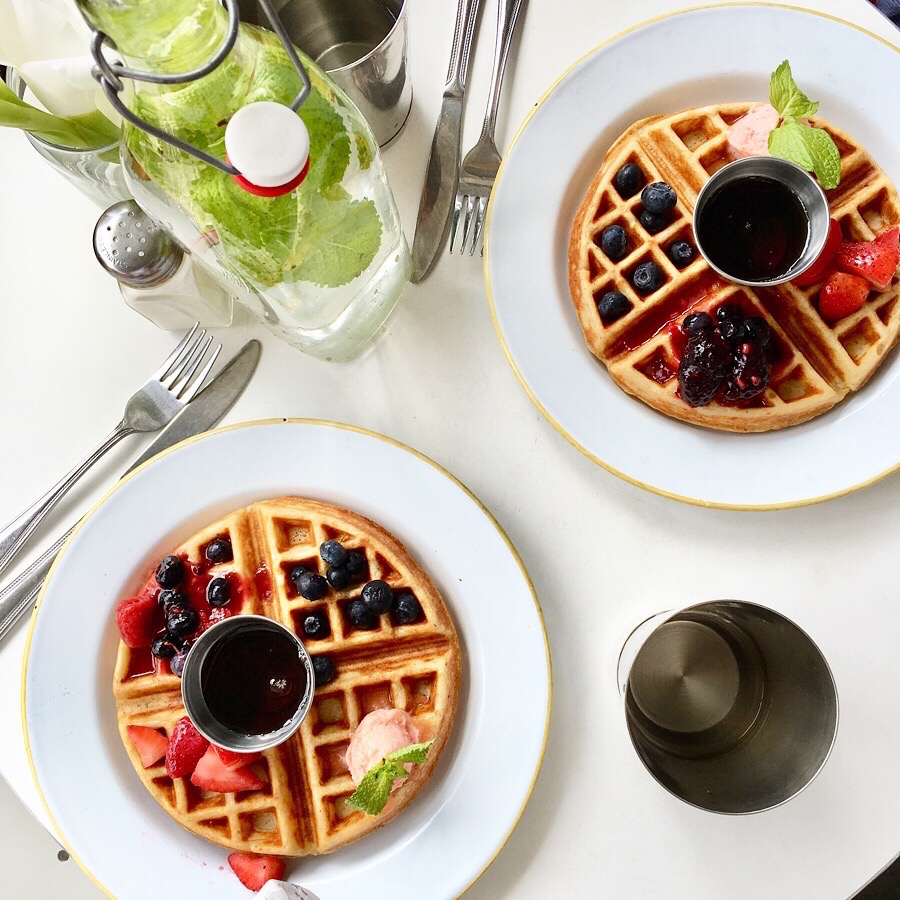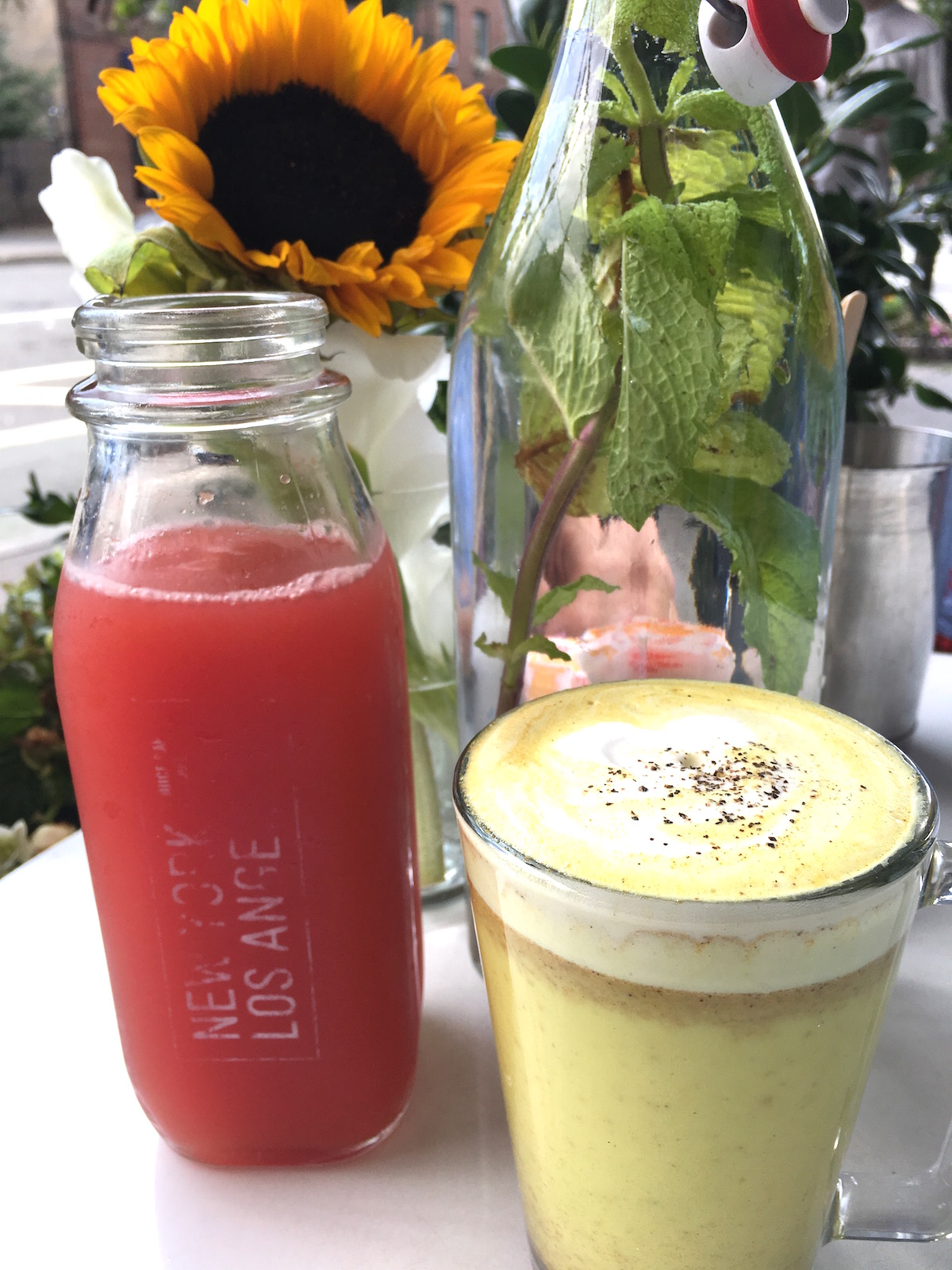 Often times when people travel, they come home feeling run down, having eating a lot of rich and unhealthy food. This was not one of those trips. We ate nutritious, wholesome food, walked for 4-7 miles each day, and saw some amazing sites and shows. The perfect way to travel!
Until next time New York.

print