Charleston Plant-based Vegan Guide
The status of the Charleston food scene is undeniable! People from around the world come to indulge in the cuisine of the Holy City. But southern food definitely isn't synonymous with health food. Much of our cuisine is centered around meat or loaded with butter, cream, and/or deep fried. It's no wonder the South is one of the most unhealthy and obese regions in the countries. Certainly not a title we should be proud of.
Needless to say dining out can be extremely difficult in many southern towns and cities when one wants to eat healthy. If you're like me and want something delicious that won't clog up your arteries or cause harm to the planet or the animals, what do you do? While I absolutely adore cooking at home and knowing exactly what's in my food, there is something special about enjoying a meal out with loved ones.
Thankfully the food scene in Charleston is expanding beyond deep fried chicken wings. We now have an abundance of healthy veggie options from buddha bowls, smoothies, tempeh reubens, pizza, and everything in between.
Below are some of my current favorites by location, in no particular order, with some descriptions. I've also created a PDF for printing! Put it on your fridge or save it on your phone to make eating out easier!
Note: Not included on this list are national chains. My list is comprised of just local spots that I personally recommend and only have a few locations! I mean, you know Chipotle exists, right?!
***Changes have been made below as of March 2022.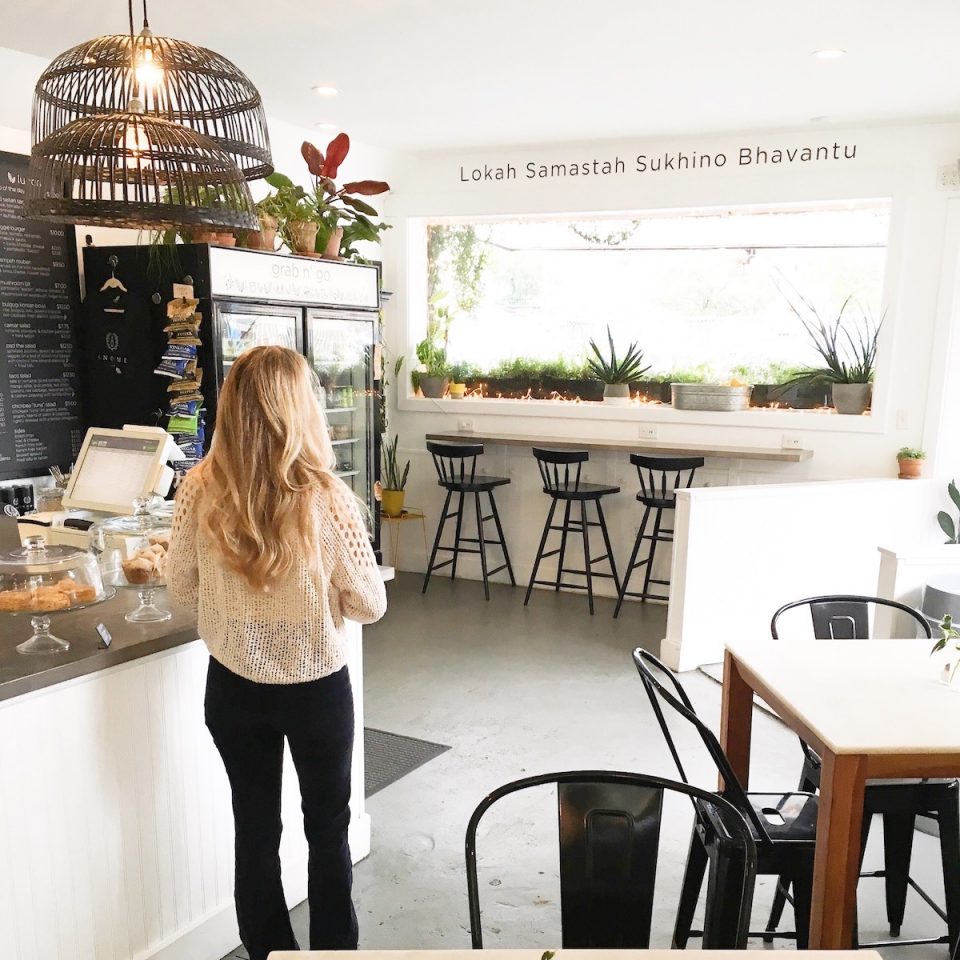 Downtown
Neon Tiger
This highly anticipated spot opened by veteran restauranteur John Adamson is a must! Neon Tiger will have everyones taste buds singing, vegan and carnivores alike! The cocktail bar focuses on local, organic, fresh ingredients and small plates. I highly recommend the pizzas!
Gnome Cafe (permanently closed)
Gnome holds the title as the the first fully vegan restaurant in downtown Charleston. However, it is now sadly closed! I have chosen to keep it on this list as a homage to all my fun days there, friends I met, and delicious meals.
Basic Kitchen
Basic Kitchen has become quite the staple for conscious eaters. While the menu has gone through some changes through the years, it still has some delicious healthy options. And don't forget their lattes!
Beech

One of the best acai bowl places in town. Beech also has delicious build your own poke bowls. I recommend the marinated mushroom with zucchini noodles, brown rice, and miso ginger sauce. Mmmmm
Huriyali
This spot has one of the cutest courtyards in town, perfect for spring lunches; the interior is pretty darn adorable as well. Huriyali offers acai bowls, smoothies, breakfast bowls, wraps, sandwiches, nachos, coffee, and more!
Sorghum & Salt
Small but mighty, Sorghum & Salt has a special "secret" vegan menu, just ask! The menu is ever changing, but the herbed broccoli I had once was the best broccoli I've had in my life!
Playa Bowls
A new comer to the downtown King Street scene, Playa has all your favorite acai bowl combinations and more! Seriously, they have dozens and dozens of different frozen pureed fruit assortments.
Harbinger Cafe
Harbinger is a perfect spot to get some work done, schedule a coffee dates with friends, or grab a quick meal. They offer an assortment of gluten-free and vegan/vegetarian sweet treats and coffee drinks.  Around lunch time there's 5-6 different salads you can choose from. My personal favorites on the menu are the turmeric chai latte with almond milk and the Jam Sesh pastry.
Verde
Quick, simple, and delicious salads – that's Verde. It's perfect for a quick lunch run or sit down with friends. The online ordering makes pick-up even easier.
Butcher & Bee
You might be thinking "butcher! oh my"! I know. I know. I thought the same thing. I actually hadn't been to this place in years thinking there wouldn't be any options for me. However, after several veggie friends told me how yummy it was, my husband and I decided to give it a try. We were blown away and now it's a regular spot of ours. Butcher & Bee offers a beautiful selection of veggie friendly items and their always changing up the options.
Stella's
This rustic and modern Greek restaurant is perfect for a casual dinner or night out with friends.  Stella's portions are generous and they offer so many different sides and apps for plant people.
D'allesandro's Pizza
Pizza. Need I say more? Order D'allesandro's online or sit down and enjoy!
Leyla
The only Lebanese restaurant in downtown Charleston, Leyla is the real deal serving some of the most amazing Mediterranean food and hummus I've ever eaten!
CO
CO is located right on King Street in the shopping district making it the perfect spot to pop in for lunch while you're wandering the streets. Be sure to ask for the vegan menu!
The Daily
This neighborhood marketplace offers an eclectic food menu that's ever changing. The Daily drink option however are always the same, serving gourmet coffee, fresh juice, wine, and craft beer.
Off Track Ice Cream
Nice cream, need I say more? But I will. 🙂 Off Track opened in 2019 and was quite the pleasant surprise. They offer 7 different vegan flavors that are sure to knock your socks off! I recommend getting the Flight of 4 mini scoops!
Rarebit
Rarebit is a great place to get a bite to eat or simply a few drinks with friends while enjoying a retro mid century vibe. (Fun Fact: I briefly lived above this spot in college! It wasn't a restaurant back then, but instead a bathroom fixture store. King Street sure has changed!)
Mount Pleasant (SI included)

Eucalyptus Elixir Bar
Inside Eucalyptus Wellness Company is a magical place they call The Elixir Bar. Here you can get everything from wellness shots, acai bowls, smoothies, avocado toast, and more. Many of their concoctions include superfoods or herbs such as spirulina, ashwagandha, and even CBD.
Kairos
This Greek inspired spot is extremely popular around lunchtime and for good reason, it's delicious and quick! I love the veggie/grain bowl at Kairos, filled with lentils, grilled veggies, brown rice, toppings, and tahini!
Mex 1 (Sullivan's Island)
This is one of my favorite spots for their super chill beachy vibe and the best darn cauliflower tacos in town! Mex 1 also makes their own fresh margarita mixes so be sure to try one of those out!
Blend
Smoothies, juices, elixir shots, acai bowls, and oatmeal, Blend offers an array of healthy options for breakfast or lunch.
Kid Cashew
Another new comer to the list, Kid Cashew devotes the whole right side of their menu to veggie people. Their outside patio is a perfect spot to enjoy the sunset and relax with loved ones.
Vintage Cafe
This cute cafe is perfect for breakfast or lunch. Vintage has a large outdoor seating area complete with a play area for the kiddos that's made from an antique truck! They offer everything from avocado toast to the Impossible Burger. My go-to favorite is the vegetable hash, subbing the egg and cheese for avocado! Perfection.
Five Loaves
A once 20+ year staple downtown, Five Loaves is now only open in Mt P and Summerville, but they still lead the way in quality and value.
Basil
While the downtown location has recently closed, the Mount Pleasant and North Charleston spots of Basil Thai Cuisine do not disappoint. My favorite is the Masaman with added broccoli!
Hustle Smoothie Bar
You'll find some of the most healthy and delicious smoothies at Hustle Smoothie Bar. All smoothies include the ever popular and yummy Blender Bombs sure to help balance and energize your day! They also have a little market selling some of my favorite vegan/gf and conscious products.
Verde
Five Loaves
West Ashley
Gathering Cafe
The Gathering Cafe's motto is "healthy food for a healthy community" and I couldn't agree more! It's focused on good wholesome ingredients, using mostly local and organic produce when possible, to make delicious and nutritious dishes sure to please all!
Nirlep
One can seldom go wrong with Indian fare when eating a plant-based diet. Nirlep has been a staple in the area for years, having been family owned and operated since it opened.
Taste of India
Can you believe West Ashley has 2 great Indian options!? Lucky! Taste of India is another delicious family owned Indian restaurant that's be around for decades.
Annie O' Love
Got a sweet tooth and need it filled with some vegan goodness? Annie O' Love's has got you covered with all the treats plus sandwiches, waffles, smoothies, and more.
Kairos
YoBo
Verde
Mex 1
Folly Beach
Jack of Cups
Love this place! Jack of Cups' menu changes with the seasons to keep you on your toes and excited to see what new items will be added!
North Charleston
Vegans on Rivers
A new comer to the area, Vegans on Rivers offers Gullah inspired vegan dishes sure to make anyone salivate!
Dell'z
Family owned since 2009, Dell'z is "food with intention".
Evo Pizza
Again, pizza. Yum! EVO is a wood fired pizzeria and craft bakery.
Azul Mexicano
One of the best veggie fajitas I've ever had, hands down! Azul offers a nice little section of options for plant people, including fajitas, tacos, and soup.
YoBo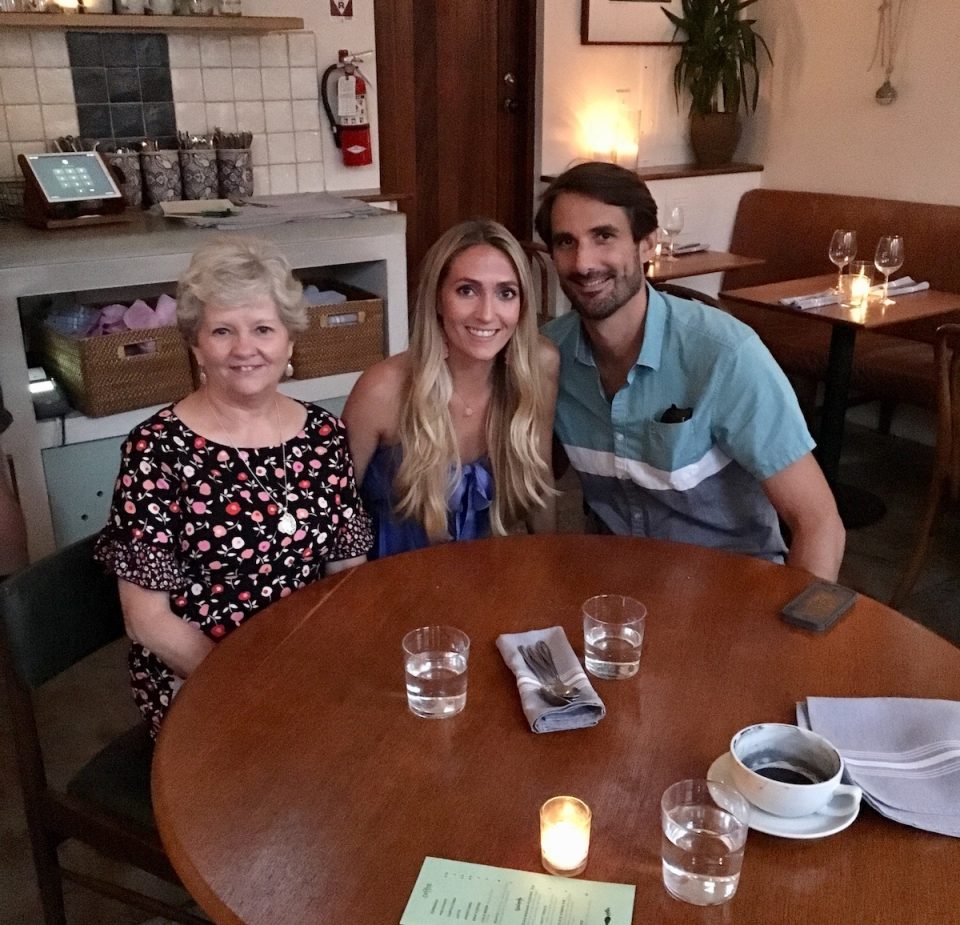 There you have it! The Refined Hippie's list of Charleston plant-based vegan restaurants and cafes. There will probably be some new ones added to this list in 2020 because a little birdy told me ANOTHER all vegan resturant should be opening up soon! I'll keep you in the loop!
What are some of your favorite spots?
PDF Print Out
Below is an image of the PDF File. To download a high quality version click the printer icon below the thumbnail.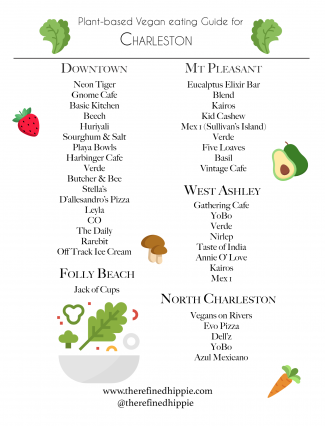 print